Sales & Auctions
Your first step should be to take full advantage of our FREE MARKET APPRAISAL/PRE SALE VALUATION/LETTING APPRAISAL*
One of our partners will then call to see you at your home where we will be happy to give our marketing advice and recommendations. A brochure and market appraisal letter with comparable evidence is sent to you by post after our meeting. No high pressure sales tactics are employed to obtain your signature to sell there and then, as we are delighted to be requested to return if a further appointment is required.
All residential/letting sole agency instructions operate on a very competitive percentage fee arrangement (subject to a minimum fee) and not a fixed fee basis and it is our overriding objective to obtain a successful sale as early as possible, but at the best possible price. We would be delighted to fully explain all our terms when we visit you.
In our market appraisal we can offer advice on the best method of sale, based upon our local knowledge experience and depending on prevailing market conditions.
*which is without obligation [please note this service is intended for clients considering selling or letting their property only - any formal written valuation for any other purpose is chargeable]
By Private Treaty
This is the most frequently used method, and its where the property is placed on the open market at either a fixed asking price or where offers are requested, or, sometimes "offers in excess" is quoted - This last method is generally used when there is a very active market.
The owner is free to accept or decline offers and the property can be on the market for as long or as short a period as is required.
Once an offer is accepted then solicitors are instructed and approximately 8 - 10 weeks later and exchange of contracts is agreed.
By Informal tender
A price guide is agreed and quoted, with offers being requested by a specific date and time in a sealed  envelope following a set procedure usually laid out in a pro-forma document prepared by the agent. This is often called sealed bids.
Offers may vary greatly and often do, but a buyer who is keen not to lose the property often offers a higher level than normal although it is possible for the buyer to withdraw later as there is no legal agreement.
The vendor does not have to accept any or all offers but can consider the level and circumstances of the offers prior to any acceptance.
The accepted offer is not disclosed to the other bidders to avoid any further negotiations.
The sale then proceeds, as would a normal private treaty.
By Public Auction
Used where the property is expected to achieve a high level of interest or where a value is difficult to assess due to its unique nature, location or features.
Also used where a sale is required in a specific timescale and where the price is not necessarily the main objective, i.e. probate sales, repossessions or where a client is possibly emigrating.
A planned and intensive campaign of advertising and pre-auction preparation is required with an auction date set some 6 - 8 weeks later to allow buyers time to view and arrange their affairs and finance etc.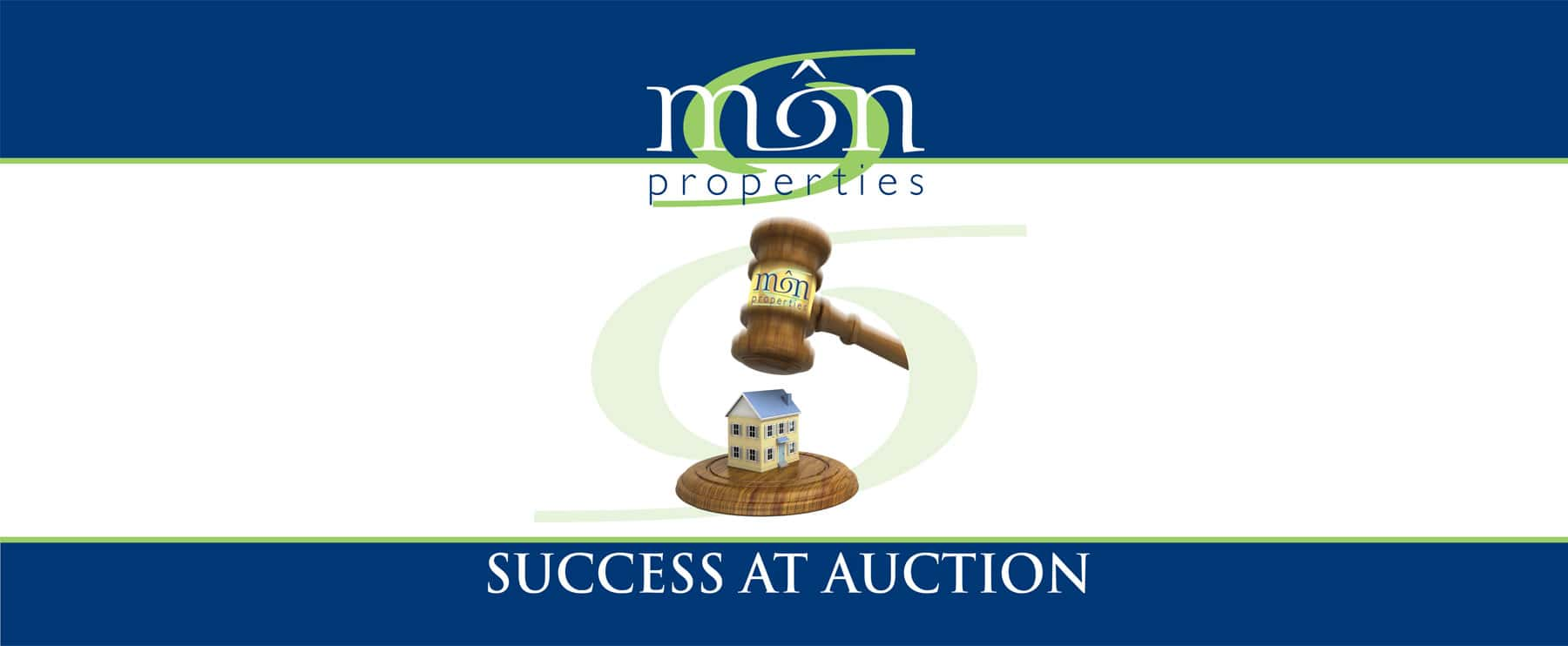 A guide price is set at the initial marketing stage with an undisclosed reserve price fixed with a vendor a week or two prior to the Auction based on our advice and on feedback from the viewings.
On the fall of the gavel the sale is binding with a 10% deposit paid and a fixed completion date set normally for 28 days afterwards.
Môn Properties frequently holds, by arrangement, either individual or composite auctions with guide prices often being well exceeded, and any new entries are most welcome - Just give us a call if you want any further information.
IF YOU WISH YOUR HOME TO BE PROFESSIONALLY APPRAISED WITH NO OBLIGATION THEN WE WILL BE DELIGHTED TO ARRANGE AN APPOINTMENT THAT SUITS YOUR NEEDS PLEASE SEND A REQUEST TO US ON THE LINK BELOW.
This email address is being protected from spambots. You need JavaScript enabled to view it.
Here at Môn Properties our sole aim is to effectively and efficiently sell or let all types of property and land and we would simply ask you to put us to the test as we would welcome the opportunity to prove that not all agents are the same.
It takes more than luck to sell! It takes the combined qualities of excellent marketing, professionalism and sheer hard work to sell at the best possible price.
We pride ourselves on an established reputation of success through a traditional proactive estate agency with the aid of modern technology to deliver results.
Letting
The lettings market has changed beyond all recognition over recent years. The biggest change recently in Wales was the introduction of Rent Smart Wales With the much publicised uncertainty in the financial markets, more and more Landlords have entered the residential lettings market as an alternative form of investment. Indeed many sellers are turning to lettings to protect their selling price and many buyers are also looking to rent whilst deposits and availability of mortgage funding is restricted.
Since 1995 Mon Properties have been offering the highest standards in Sales, Valuations, Auctions and Lettings of all types of Residential Rural and Commercial property here on the Isle of Anglesey. So you can be assured that the home you let or your property investment will be safe in our hands.
Licensed and Qualified Staff.... Means Quality Service
We are Licensed with Rent Smart Wales and the Association of Residential Letting Agents (ARLA) which means you have peace of mind in knowing that you are dealing with a responsible, professional, regulated Agent. We have Client Money Protection Insurance Cover, Professional Indemnity Insurance and are bound by strict codes of conduct.
All our Lettings staff have the Technical Award in Residential Lettings and Property Management and therefore have the required skills and qualifications to look after your interests.
We also belong to the Ombudsman for Estate Agents and Letting Agents who also have very strict codes of conduct and provide a fair and reasonable redress system should there be any dispute with our service.
Mon Properties deliver a professional, personal and Quality Service
Choosing a letting Agent is an important decision, and choosing a managing agent even more so. Mon Properties prides itself on experience and technical knowledge. With over 38 years of experience, with trained and qualified staff we feel we are best placed to offer you peace of mind.
We would be delighted to assist you in finding a tenant for your property. Please put us to the test by contacting us today.
Three Service Selection.... Means a Tailored Service
1: Let Only Service
Our Let Only Service is best suited for experience Landlords who have the time, knowledge, experience and resources to deal with all the day-to-day issues arising from letting a property.
A free Initial Market Appraisal with full marketing advice
A tailored Marketing package to fully expose your property to the widest audience
Advice on presentation and property improvements to achieve best rent quickly
Advice and information on all the required safety checks - We can arrange if required
Accompanied Viewings
Full Reference and Credit Checking
Draw up Tenancy Agreement
Advice on a Professional Inventory/Schedule of Condition - Essential in relation to deposit disputes
Receipt of cleared initial rent monies and collection of tenancy deposit
Arrangement of subsequent standing order for future rents to be paid to your account
We can arrange any extensions to the initial term
Providing tenant with all relevant certificates and information to ensure they are aware of their responsibilities
---
2: Let Only & Rent Collection Service
All the benefits of above but also a comprehensive Rent Collection Service for those Landlords who require rents to be chased quickly, efficiently, legally and reliably with robust systems to inform all parties of the issues and consequences of late and non payment. It is vital to keep precise and detailed accounts of all rents received to ensure that the tenancy runs smoothly and any income for taxation purposes is recorded correctly. We will arrange for all cleared rents to be forwarded promptly, less any necessary deductions, by BACS transfer to your account.
Please note that whilst we will make every effort to collect rent and ensure the tenancy agreement is adhered to, the Landlord will be responsible to initiate and settle any costs of legal action recommended by us should this prove necessary. We will offer every assistance to your legal representative and provide documentation as required.
---
3: Full Management Service
Whilst the benefits of letting can be rewarding the responsibilities can appear daunting with over 20 separate pieces of Statutory legislation to be considered and complied with. The property needs to be cared for and maintained, with any problems being addressed quickly and efficiently. This may be difficult if you are new to letting , if you live out of the area, if there are several owners or simply do not have the time and sometimes the inclination to look after all the day-to-day issues.
Well our Full Management Service is tailored to look after you completely - Not only are all the above covered but we also include
Collection of rent with monthly statements
Quarterly Inspections to identitfy any issues - We can also provide a report if requested
We will deal with any maintenance issues and instruct suitable qualified contractors
Service of Notices
Hold and Register the Tenant's deposit and assess any dilapidations
A check in and check out service
Arrange estimates for repairs or improvements
Pay any regular outgoings
Arrange all service and safety checks
Out of hours call out service for tenants
Download our Landlord Fees Download our Tenant Fees Client Money Protection Certificate Propertymark Conduct & Membership Rules