Sales & Auctions
Your first step should be to take full advantage of our FREE MARKET APPRAISAL/PRE SALE VALUATION*
One of our partners will then call to see you at your home where we will be happy to give our marketing advice and recommendations. A brochure and market appraisal letter with comparable evidence is sent to you by post after our meeting. No high pressure sales tactics are employed to obtain your signature to sell there and then, as we are delighted to be requested to return if a further appointment is required.
All residential sole agency instructions operate on a very competitive percentage fee arrangement (subject to a minimum fee) and not a fixed fee basis and it is our overriding objective to obtain a successful sale as early as possible, but at the best possible price. We would be delighted to fully explain all our terms when we visit you.
In our market appraisal we can offer advice on the best method of sale, based upon our local knowledge experience and depending on prevailing market conditions.
*which is without obligation [please note this service is intended for clients considering selling their property only - any formal written valuation for any other purpose is chargeable]
By Private Treaty
This is the most frequently used method, and its where the property is placed on the open market at either a fixed asking price or where offers are requested, or, sometimes "offers in excess" is quoted - This last method is generally used when there is a very active market.
The owner is free to accept or decline offers and the property can be on the market for as long or as short a period as is required.
Once an offer is accepted then solicitors are instructed and approximately 8 - 10 weeks later and exchange of contracts is agreed.
By Informal tender
A price guide is agreed and quoted, with offers being requested by a specific date and time in a sealed  envelope following a set procedure usually laid out in a pro-forma document prepared by the agent. This is often called sealed bids.
Offers may vary greatly and often do, but a buyer who is keen not to lose the property often offers a higher level than normal although it is possible for the buyer to withdraw later as there is no legal agreement.
The vendor does not have to accept any or all offers but can consider the level and circumstances of the offers prior to any acceptance.
The accepted offer is not disclosed to the other bidders to avoid any further negotiations.
The sale then proceeds, as would a normal private treaty.
By Public Auction
Used where the property is expected to achieve a high level of interest or where a value is difficult to assess due to its unique nature, location or features.
Also used where a sale is required in a specific timescale and where the price is not necessarily the main objective, i.e. probate sales, repossessions or where a client is possibly emigrating.
A planned and intensive campaign of advertising and pre-auction preparation is required with an auction date set some 6 - 8 weeks later to allow buyers time to view and arrange their affairs and finance etc.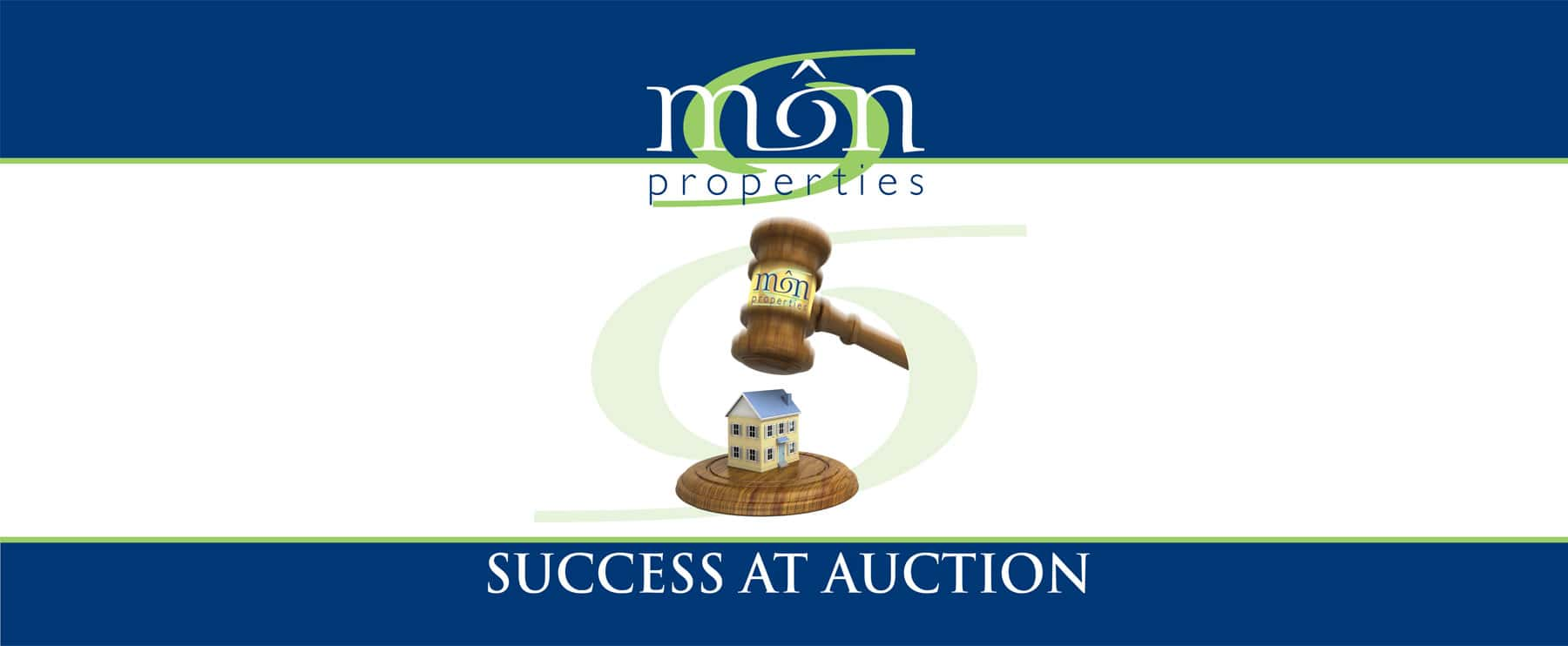 A guide price is set at the initial marketing stage with an undisclosed reserve price fixed with a vendor a week or two prior to the Auction based on our advice and on feedback from the viewings.
On the fall of the gavel the sale is binding with a 10% deposit paid and a fixed completion date set normally for 28 days afterwards.
Môn Properties frequently holds, by arrangement, either individual or composite auctions with guide prices often being well exceeded, and any new entries are most welcome - Just give us a call if you want any further information.
IF YOU WISH YOUR HOME TO BE PROFESSIONALLY APPRAISED WITH NO OBLIGATION THEN WE WILL BE DELIGHTED TO ARRANGE AN APPOINTMENT THAT SUITS YOUR NEEDS PLEASE SEND A REQUEST TO US ON THE LINK BELOW.
This email address is being protected from spambots. You need JavaScript enabled to view it.
Here at Môn Properties our sole aim is to effectively and efficiently sell all types of property and land and we would simply ask you to put us to the test as we would welcome the opportunity to prove that not all agents are the same.
It takes more than luck to sell! It takes the combined qualities of excellent marketing, professionalism and sheer hard work to sell at the best possible price.
We pride ourselves on an established reputation of success through a traditional proactive estate agency with the aid of modern technology to deliver results.